IMS talk: "Multilingual Practices in L2 Arabic: Insights from Heritage and Content-Based Contexts" by Dr. Mahmoud Azaz
Posted in Announcements Events
Mahmoud Azaz, Associate Professor of Arabic Language, Linguistics & Pedagogy and Second Language Acquisition & Teaching at the University of Arizona gave a talk on "Multilingual Practices in L2 Arabic: Insights from Heritage and Content-Based Contexts" for IMS on Georgetown campus on February 13th. 2023.
Dr. Azaz's talk is now available on the IMS Youtube page. Check out the talk here.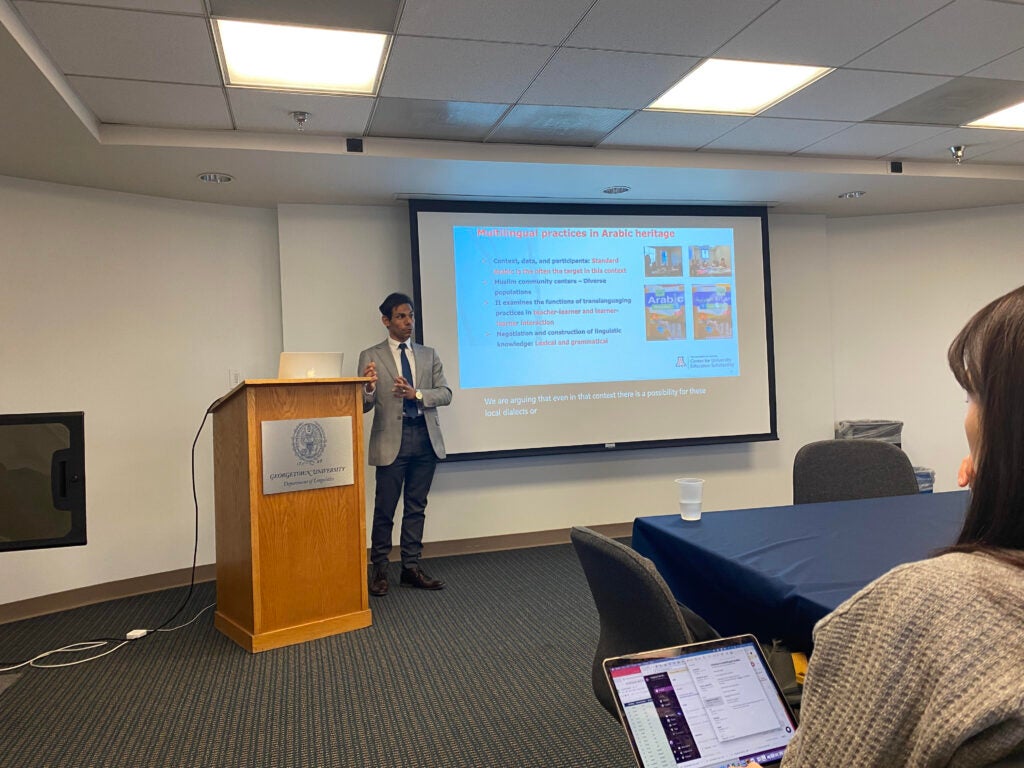 Description: Abstract: Using translanguaging as a multilingual approach and with focus on Arabic as a diglossic language, I examine the fluid and dynamic practices that transcend the boundaries between/among Standard Arabic, Arabic dialects, and English in heritage and content-based contexts. Using conversation analysis, I show how translingual practices in learner–learner and teacher–learner interactions and discussions utilize the available linguistic repertoires in the classroom discourse. These practices broke the priori established boundaries that set Standard Arabic as the target language and maximized Arabic learner gains. The use of Arabic dialects and English promoted the negotiation of linguistic knowledge (lexical and grammatical), facilitated the engagement with and critical interpretation of literary texts, and enhanced the meaning-making process at large in both contexts. These gains theoretically enrich recent discussions about the role of available linguistic repertoires and the ideological divide between language and content in Arabic language programs. It also advances the position that pedagogical translanguaging as a multilingual approach destabilizes the status of standard varieties as the target in diglossic languages. Pedagogical implications are discussed for heritage and mainstream programs in diglossic language. Research Collaborators: Yousra Abourehab and Ebtissam Oraby
Bio: Dr. Mahmoud Azaz is Associate Professor of Arabic Language, Linguistics & Pedagogy and Second Language Acquisition & Teaching and Distinguished Fellow at the University of Arizona (UA). He holds a Ph.D. with Distinction in Arabic SLA and Pedagogy from the UA's SLAT Program. His research focuses on Arabic SLA from linguistic and sociocultural perspectives, and his work has appeared in multiple journals in SLA and applied linguistics. He edited the 34th volume of Perspectives on Arabic Linguistics (John Benjamins Publishing); co-authored a textbook on Egyptian Arabic that is scheduled appear in 2023 (Georgetown University Press); and he is completing a monograph on instructed SLA of Arabic morphosyntax (contracted with Routledge Press). Also, he is currently co-editing a special issue on multilingual perspectives in L2 Arabic (Journal of Critical Multilingual Studies). His recent work focuses on the development of sociopragmatic competence and linguistic complexity in L2 Arabic.